The company is called Cream Capital (short for Crypto Rules Everything Around Me).
Ghostface Killah is the co-founder of a new cryptocurrency firm that hopes to raise $30 million in funding through a digital coin sale.
The company is called Cream Capitol. Yes, CREAM is short for "Crypto Rules Everything Around Me," a nod to Wu-Tang Clan's 1994 single.
Cream Capital will be selling "Cream Dividend" tokens next month, which can be exchanged for Ether (the value tokens of the Ethereum blockchain). In a press release, they state their long-term goals: "By 2020, we intend to capture more than half of the global cryptocurrency ATM market and make cryptocurrencies more accessible to the general public than ever before."

If you're behind on the concept, cryptocurrencies are a subset of digital currencies that use cryptography for security. Bitcoin is a popular example of a cryptocurrency.
So, how did Ghostface get involved in something like this? We reached out to co-founder/CEO Brett Westbrook to hear the story.
"Ghostface Killah is a long-time business partner of ours," he explains. "I personally connected with him during a Reddit AMA on /r/hiphopheads last year when he was seeking tech-inclined people to work with in future technology focused projects. Dennis is a very forward thinking person and has a keen interest in emerging technologies. It's hard to ignore blockchain tech today even when you're a busy, touring hip hop artist.
REMEMBER THAT WU-TANG IS FOR THE CHILDREN. GHOSTFACE IS A VERY SOLID BUSINESSMAN AND HAS SURROUNDED HIMSELF WITH BRIGHT INDIVIDUALS WITH A HUNGER FOR BRING NEW, GROUNDBREAKING TECHNOLOGIES TO MARKET."
Westbrook continues, "He doesn't have any technical background with cryptocurrencies. However, remember that Wu-Tang is for the children. He is very focused on what the youth and millennials are interested in. He is a very solid businessman and has surrounded himself with bright individuals with a hunger for bring new, groundbreaking technologies to market."
Ghostface is one of four co-founders and will serve as the company's Chief Branding Officer. The hope is that he will be able to help transition the niche technology into a mainstream environment.
"His work capacity will be laying out a framework for which cryptocurrencies are more familiar to everyday people," Westbrook says of Ghostface's specific role in the company. "Our goal is to help transition cryptocurrency adoption not necessarily away from the technically inclined population, but to create a more inclusive investment and asset management environment for everyday people. He plays a critical role in helping the general public learn more about cryptocurrencies and specifically the benefits and value that Cream Capital brings to this space."
Westbrook tells us that Ghostface has experience working with the team on joint ventures in the past.
"Our Chief Financial Officer Manish Patel has been involved in several joint ventures with Ghostface Killah in the past and this is the next step for us moving forward," Westbrook says. "We have been involved in everything from Ghost's clothing line Cherchez La Ghost, to CreamBnB vacation rentals, to Cream World Realty, to Wu World Entertainment and more. Cream Capital is the flagship of the entire ecosystem."
If you're interested in jumping on board, the company will be holding a token sale on November 11th, 2017.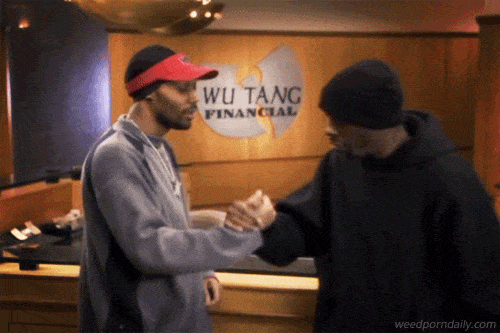 Words by ERIC SKELTON for Pigeons and Planes